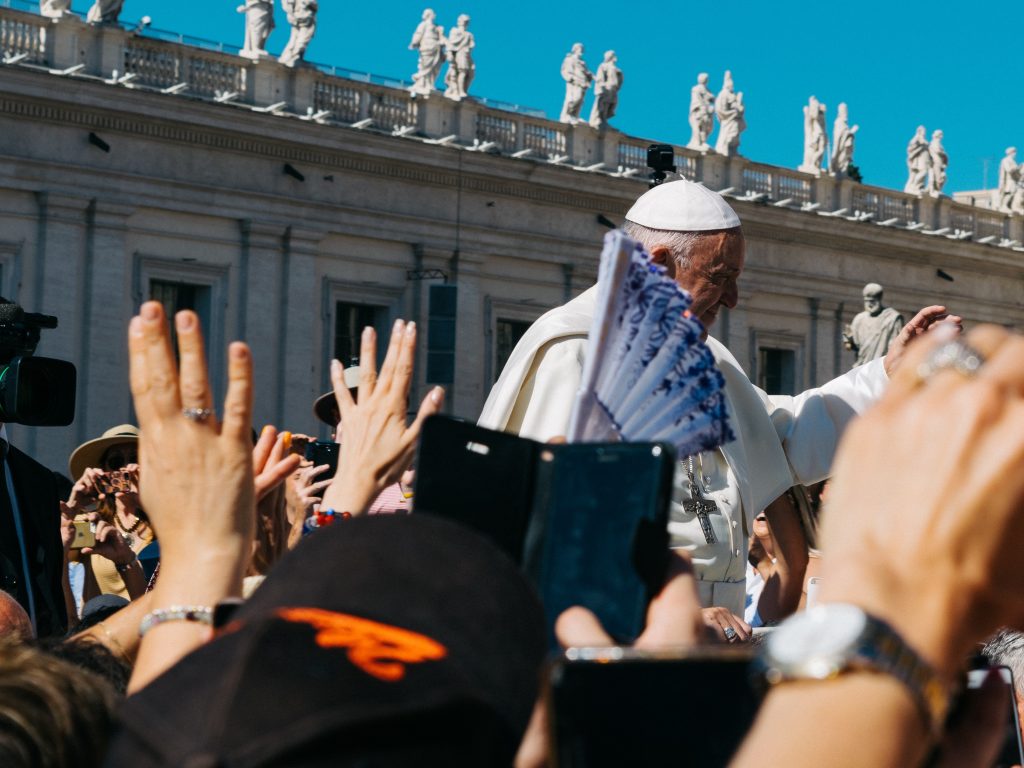 Open letter to Pope Francis
His Holiness Pope Francis,
The lull on the Covid front now favors face-to-face meetings and I would have liked to talk to you in person. But since the procedures for requesting an audience at the Vatican are far from being a sinecure, I am addressing you by simulating this meeting, the agenda of which is to draw your attention to the tragedy of Africans and non-Europeans who are victims of the war in Ukraine.
At times I will invoke biblical verses to align myself with the Vatican communiqué in which you recalled, in mid-March, that "the Church must not use the language of politics, but the language of Jesus". So, straight talk will be the order of the day.
The Holy Father,
Since the beginning of the conflict, you have been multiplying calls for peace and condemnations in a noble manner. This week, on 6 April, you denounced the "ever more horrible cruelty" in Ukraine, before kissing a flag from Boutcha, the Ukrainian town where several corpses were discovered. Three days earlier, during a mass in Malta, you condemned a "sacrilegious war".
Already on 25 March, at a religious service in Rome, you condemned an "odious war" whose "bombs are destroying the homes of many of our defenseless Ukrainian brothers". You invited the priests and bishops of the world to join you in prayer. And to mark the occasion, the text of your homily was broadcast in 35 languages.
In other speeches you have deplored the "rivers of blood and tears" flowing in Ukraine. The situation of Africans and non-Europeans, which is unfortunately mixed up with these "rivers of blood and tears", is relegated to the background in your numerous interventions.
I'll pass you my binoculars
I'll hand you my binoculars to get a sense of the tragedy the war in Ukraine has caused for African and non-European minorities. In the background you will see many students in disarray because they are subject to appalling discrimination in European countries after having fled the bombings.
You will also notice that an extract from the European Union directive of March 4th provides for temporary protection for non-EU nationals under certain conditions and that the states concerned systematically refrain from applying this law. In doing so, we sadly find first-zone refugees made up of white-skinned, blue-eyed and blond-haired people on the one hand and, on the other, last-zone or garage victims, resulting from the same war and including people with black or tanned skin, brown eyes and frizzy or curly hair.
You will see a small dose of injustice when you see non-Europeans housed in ordinary asylum centers while their fellow Ukrainians are housed in private homes or in centers of better fortune.
If you point the binoculars at the Polish borders, you will see that Africans and non-Europeans fleeing the conflict are arrested and locked up in camps.
Alongside this dramatic picture, you will fortunately observe African solidarity in action coupled with that of some Westerners who denounce a variable geometry reception policy.
Alongside this dramatic picture, you will fortunately observe African solidarity in action coupled with that of some Westerners who denounce a variable geometry hospitality policy.
His Holiness the Pope,
I wonder why you only advocate for the war-affected Ukrainians when other minorities are also paying a heavy price. Are not Africans and non-Europeans Daughters and Sons of God worthy of your concern?
Just by making these statements, I am venturing down a slippery slope at the risk of being rapped on the knuckles by certain faithful African Catholics who firmly believe that one does not criticize a man of God. To those who will be angry with me, I ask forgiveness in advance and recall in passing that Christ invites us in Matthew 18:22 to forgive up to seven times seventy.
His Holiness the Holy Father,
If there was any justice, Africans should be at the forefront of the people whose cause you should defend in Ukraine. It is on their continent that the Catholic Church is experiencing a meteoric rise, with the faithful imploring the Lord Day and night. The weight of the Catholic Church, which was only 1% in Africa around 1900, has risen to 18% in 2019, according to data from the Central Bureau of Church Statistics.
Break the legal lock
At a time when Europe is experiencing a severe lack of vocations, African priests are being called to the rescue, and their voices are echoing in Western churches. A reason more to be sensitive to the plight of Africans in Ukraine. In Psalms 91:14, did Jesus not promise his faithful ones who love him that he will deliver them and protect them because they know his name?
Sovereign Pontiff,
By now you are aware that minorities are suffering martyrdom in Ukraine and in the countries of Europe. It is not too late to do the right thing by putting the church back in the village.
Your voice carries. Make sure that Europe gives equal treatment to all people fleeing the war in Ukraine. I ask you to work tirelessly to remove the legal impediment that prevents African and non-European students fleeing the conflict from continuing their studies, like Ukrainians, in the countries where they find refuge.
These grievances are prayers that thousands of Catholic students, parents and faithful would like to see answered. In the name of the Father, the Son and the Holy Spirit.
Sion, Switzerland, April 9, 2022
Etonam Ahianyo, Journalist, African, Coordinator of the SaveAfricans-Ukraine initiative
Contact : +41 78 243 09 10